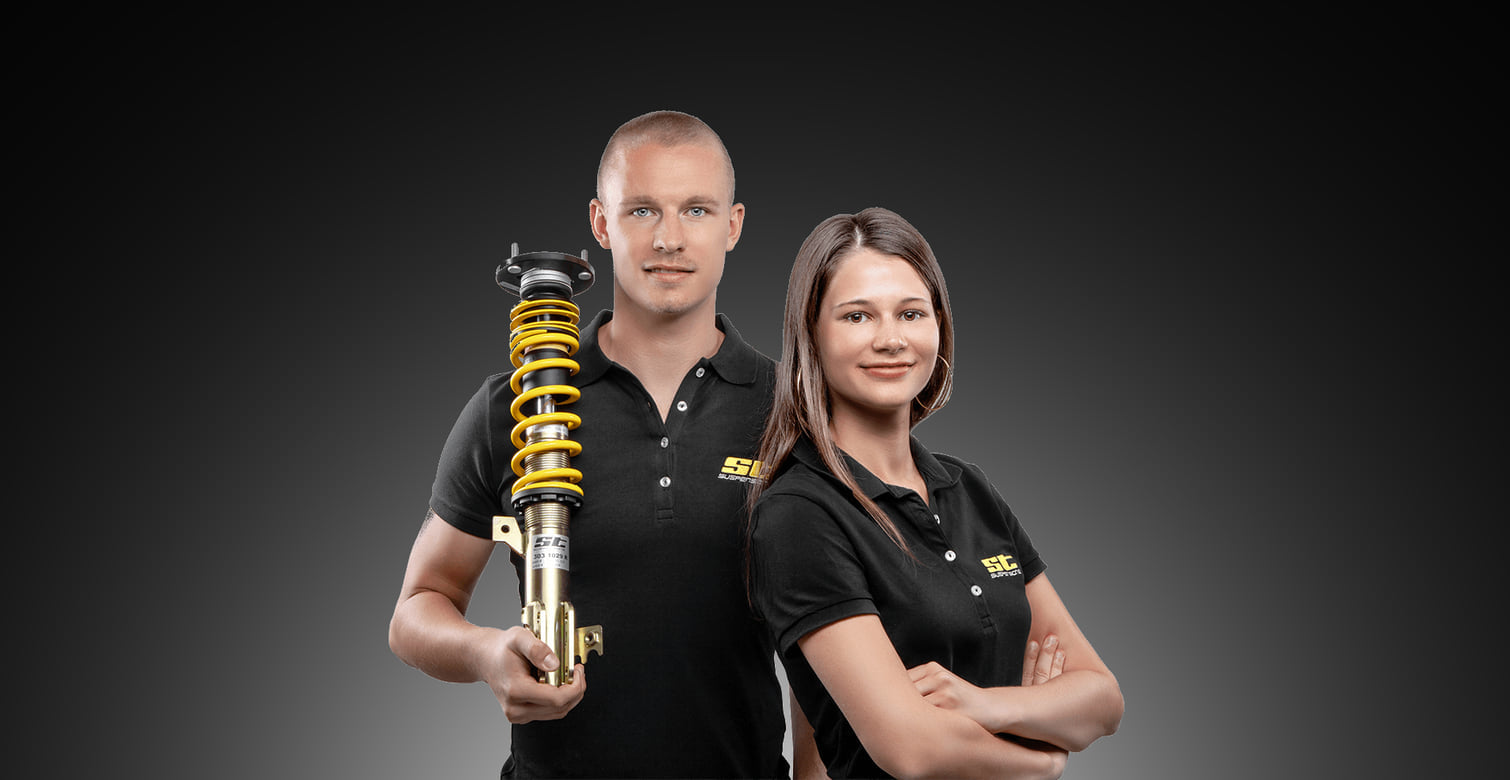 You need help regarding our products or you would like to get an individual consulting? No problem! Our service team is available for you Monday through Friday from 8.00 am to 5.00 pm.
Customer Service
You need help regarding our products or you would like to get an individual consulting? No problem! Our service team is available for you Monday through Friday from 8.00 am to 5.00 pm.
Dealer search
All of our ST products are also available from our trained dealers. Find your local ST dealer now!
Dealer request
You want to sell our product? Get in touch with us now:
Development request
If we do not have a suspension kit for your vehicle in our program, please send us a development request:
Frequently Asked Questions
Choose a category
All orders with corresponding availability will be processed immediately. Availabilities for every single article are mentioned on the product detail page as well as in the shopping cart. When paying in advance, please consider the additional bank terms of 2-3 working days. Deliveries are possible to delivery addresses in the following countries.
Shipping costs - national
For the national shipping within Germany we charge the following shipping costs:
Shipping costs - international
For the international shipping into the following countries, we charge the following shipping costs:
| | |
| --- | --- |
| Austria | 19,00 € |
| Belgium | 15,00 € |
| Bulgaria | 25,00 € |
| Czech Republic | 15,00 € |
| Denmark | 19,00 € |
| Estonia | 25,00 € |
| Finland | 19,00 € |
| France | 15,00 € |
| Greece | 30,00 € |
| Hungary | 30,00 € |
| Ireland | 30,00 € |
| Italy | 19,00 € |
| Latvia | 25,00 € |
| Lithuania | 30,00 € |
| Luxembourg | 15,00 € |
| Netherlands | 15,00 € |
| Poland | 25,00 € |
| Portugal | 30,00 € |
| Romania | 25,00 € |
| Slovakia | 25,00 € |
| Slovenia | 25,00 € |
| Spain | 30,00 € |
| Sweden | 19,00 € |
Modes of payment
For orders in our online shop, we offer the following options of payment: Payment in advance (bank transfer) / PayPal / Cash on delivery (only in Germany).
Payment in advance
Use the simple, uncomplicated way of payment in advance and transfer the order amount to the below mentioned bank details. Please indicate the purpose of use (order number), which you will find in your order confirmation. The production of your ordered product or shipping takes place immediately after receipt of payment on our bank account. Please note the bank processing time of approximately 2 - 3 working days.
Our bank details:
| | |
| --- | --- |
| Account holder: | KW automotive GmbH |
| Bank: | Sparkasse Schwäbisch Hall Crailsheim |
| Account No. | 6402523 |
| Bank Sort Code: | 622 500 30 |
| IBAN: | DE80 622 500 300 006 402 523 |
| BIC: | SOLADES1SHA |
PayPal
Paying with PayPal is easy, quick and convenient via your existing PayPal account. You can pay with just a few clicks, as your data are already deposited at PayPal. Please note that you will be redirected to the PayPal website to complete the payment during the ordering process. We usually receive a confirmation of payment from PayPal immediately, so we can process your order right away.
You do not have a PayPal account yet? Simply register at www.paypal.de. Signing up at PayPal takes only a few minutes and is completely free.
Credit cards
Payment is made conveniently by debiting your credit card: VISA or MasterCard. Use this simple and quick form of payment, completely without any further fees for you. At the end of the ordering process you enter your credit card details (credit card number, expiry date and security code) and our billing partner transfers those within a secured connection to the corresponding data centers. Please note that you also have to enter or create a 3D-Secure-Code, so that a misuse of your credit card by unauthorized persons is not possible.
We usually receive a prompt confirmation of payment and can start to process your order immediately. Please note that you will be redirected to the Saferpay-website (credit card payment processing) at the end of the ordering process to complete the payment. The debit of your credit card account takes place immediately after the order has been entered.
Cash on delivery
When paying by cash on delivery, you have to pay the amount directly upon delivery of the goods in cash plus a delivery fee of 2,- € to the shipping company. The total amount to be paid consists of the order value, as well as arising shipping costs and COD charges of 4,50 €.
Please keep the COD amount ready in cash upon delivery of your order, a payment by debit or credit card is not possible. Cash on delivery is only possible for orders and deliveries within Germany.
Installation
The installation of our suspension components (wheel spacers, spring distance kits, springs, coilovers, coilover springs, sport suspension, anti sway bars) always have to be carried out according to the specifications of the respective vehicle manufacturer. In addition, the supplied ST installation instructions have to be considered and the professional installation must always be carried out by a specialist garage.
ST installation partners
Via the ST dealer locator you can find certified ST suspensions dealers, installation partners and wheel spacer specialists in your area, who are your competent contact person for our extensive product range. Our ST installation partners have a well-founded expertise and are regularly trained by us.
Warranty and repair
All of our products set a very high standard in quality and durability. However, even with our products, a defect can not be entirely ruled out. Should your purchased products have any defects, please contact us as follows:
Please send us an Email to technik@kwautomotive.de with your contact data (complete address including telephone number); Your customer number and/or invoice number; part number and product name; note, if repair or warranty (24 months after date of purchase); information about your car (manufacturer, model, type, engine, year of construction) and detailed description of your complaint.
Afterwards you will receive an Email from our support team with all further information.
Cancellation policy
Cancellation right - You have the right to cancel this contract within 14 days without giving any reason. The cancellation period will expire after 14 days from the day on which you or a third party acquired by you, which is not the carrier, has taken possession of the last goods. In order to carry out your right of cancellation, you have to inform us, the KW automotive GmbH (represented by the Managing Directors: Klaus Wohlfarth, Jürgen Wohlfarth, Aspachweg 14 74427 Fichtenberg Deutschland, Phone: 0, Fax:191, E-Mail: info@st-suspensions.de) in the form of a clear statement (for example a letter sent by post, fax or E-Mail) about your decision to cancel this contract.
In compliance to the cancellation period, it is sufficient that you send the notice about the exercise of the right of cancellation before the cancellation period expires.
If you cancel this contract, we will have to pay back all the payments we have received from you, including delivery charges (except for the additional costs arising from choosing a different delivery method than the cheapest standard delivery we have offered) immediately and at the latest within fourteen days from the date on which the notification of the cancellation of your contract has been received by us. For this repayment we use the same way of payment that you have used in the original transaction, unless otherwise something else has been agreed with you; in no case will charge you for any repayment fees. We may refuse repayment until we have received the goods back or until you have provided a proof that you have sent the goods back, whichever is earlier. You have to send back the goods or hand them over to us immediately and no later than fourteen days from the day when you have informed us about the cancellation of this contract to the
ST Suspensions
Aspachweg 14
74427 Fichtenberg
Deutschland

Phone: 0
Fax: 191
E-Mail: info@st-suspensions.de
The deadline is respected if you send the goods before the period of fourteen days expires. You have to carry the immediate costs of returning the goods. You are only liable for any diminished value of the goods resulting from the handling or other than what is necessary to establish the nature, characteristics and functioning of the goods.
---